Rewards of fostering a love and care for kids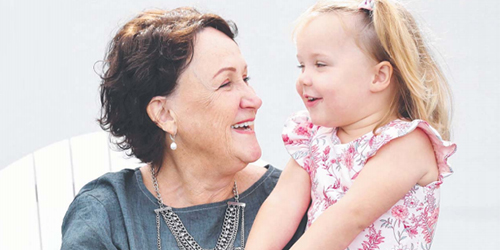 It takes a special kind of person to become a foster parent. Having welcomed more than 100 foster kids into her home over the past 35 years, grandmother Marg Bailey has been named Barnardos Mother of the Year for NSW in recognition of her love and compassion.
"My husband and I were very young and we had our two little boys who were aged five and four at the time and we knew we couldn't have any more children because I had a hysterectomy at 21," the now 59-year-old said of their decision to foster.
"We felt like we wanted to continue to parent more.
We saw an advertisement in the paper for one of the agencies and we made that phone call and that's how our journey began." She said the reward of fostering was watching the children "blossom like a little flower" in her care.
"All we want is for them to be secure, happy and not anxious any more," Ms Bailey said. "The kids love you unconditionally as well, but the most rewarding thing is them because they are so beautiful.
"I find them all angels and so unique. They need us." The biggest challenge is the heartbreak when the children leave her care.
"Any child who comes into care, whether newborn or an older child, they have suffered trauma in some way," she said.
Ms Bailey said it feels "surreal" to be recognised by Barnardos, as fostering had become a "normal part of our lives", and encouraged others to also help out.
"Be honest and do it for the right reasons - it is a package deal," she said.
*Image by Sue Graham - Barnardos NSW Mother of the Year Margie Bailey with grandaughter Cleo Bailey, 1 
(This article first appeared in the Daily Telegraph)